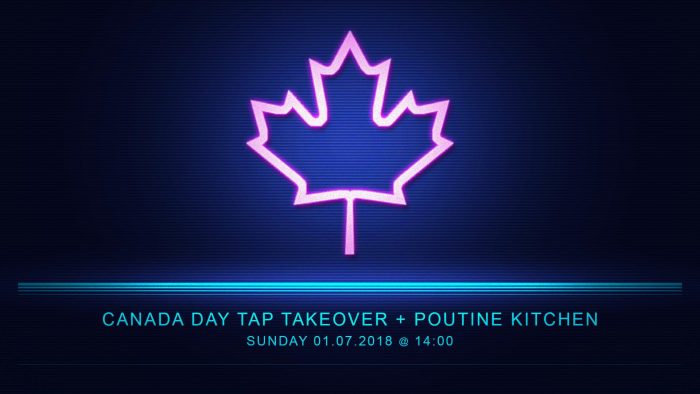 We're doing it again! Sunday, July 1st is Canada Day, and as a beer bar run by two Canadians, it's our duty to properly celebrate.
We are excited to invite you to our Canada Day Tap Takeover party with 20 Canadian beers on tap, more in bottles, and a merch giveaway. Plus, The Poutine Kitchen team will be here making delicious poutines for us all!
There will be beer/cider from Brasserie Dieu du Ciel, Bellwoods Brewery, Central City Brewers + Distillers, Flying Monkeys Craft Brewery, Collective Arts Brewing, Brasserie Dunham, LTM – Les Trois Mousquetaires microbrasseurs, and Cidrerie Milton.
Stay tuned – the full taplist and bottle selection, as well as a few surprises, will be announced here shortly.
? FOOD ?
The Poutine Kitchen will be set up outside, making delicious poutine with crispy country fries, squeaky cheese curds, and delicious brown gravy. ?
? TAPLIST ?
• TBD
? BOTTLES ?
• TBD
? CAESARS ?
Classic with 4cl of vodka and celery garnish. Available until the Clamato runs out!
FREE ENTRY
We're even opening an hour early for the occasion – come celebrate with us!
?☀?