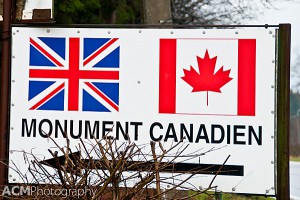 The Canadian and British Royal Legions hold a memorial event at the Tigelot Memorial to remember the Canadian and British Personnel who were shot down in Halifax MZ 829 KN-X of 77 Sqn, On 2nd November1944
If your members were to join this I am sure it would be much appreciated by the organisers, and if our German friends were to join that would be even more honourable This event will be on Sunday 30 Aug 15. Attendees need to be at the church by 10:15hrs, Rue Haut Vinâve, 4845 Jalhay, Belgium
History:
 A Handley Page Halifax bomber MZ-829 KNX-Y was shot down, while returning from a bombing raid over Düsseldorf, Germany. The Halifax bomber ripped through the Belgian skies, crashing in the small village of Jalhay, Belgium. A crew of seven manned the Halifax; a pilot and co-pilot worked the enclosed flight deck, a navigator/bombardier/gunner, radio operator, flight engineer, and two gunners in the fuselage. All seven crew members were killed in action, six Canadians and one Scot.
All seven crew members are buried at Hotton War Cemetery. Local land owner, Mr Albert Adans, his wife Margrave, and two daughters, Marie-Josa and Jeannine, and a local resident by the name of Gilbert Rode, witnessed the crash.
At the Request of Ada Le Noury, mother of the navigator, during her visit to Jalhay, to see where her son's last moments were spent, she mentioned to Mr Adans, how nice it would be to mark the spot where the crew had perished, as a Remembrance to their ultimate sacrifice. Mr Adans agreed, and he did just that.
He went to a local quarry and retrieved a six foot stone, weighing roughly two tonnes, and brought it back to where the Halifax had crashed, destroying his vehicle in the process. He then mounted a plaque on it, bearing the airmen's' names and where they were from.
He did more than just mark the spot; it created a shrine. In 1951, Mr Albert Adans held the first Canadian Memorial of Tigelot, a Commemoration Ceremony dedicated to the aircrew and allied soldiers who sacrificed so much for the liberation of their country, Belgium and other countries in the world.
Today Ceremonies are held by Mr Adan's son-in-law, Leon Boulet. A church service is held in the morning at 10:30, followed by a wreath laying Ceremony at the monument, then a Belgian-style lunch.
 Further Info in German:
 http://www.worldwartours.be/memorial-canadien-tigelot-halifax-mz829-.html
I am the contact for Germany
Regards
Tam
E-Mail: letstalk@t-online.de