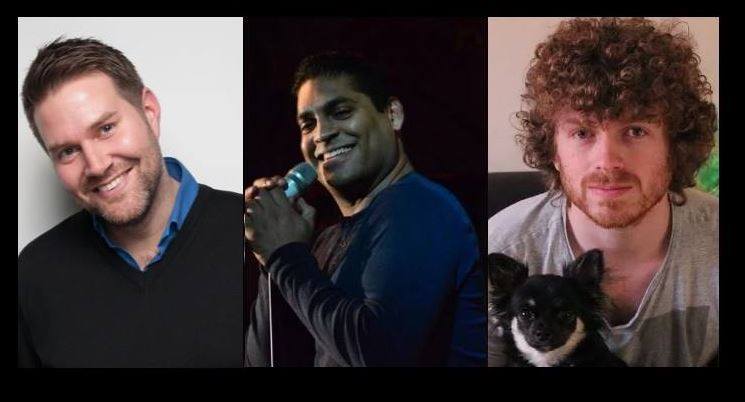 Welcome to Dusseldorf English Comedy Night!
It will be an Afterwork themed event, so come on down and bring your colleagues and friends for a great show full of laughs with 3 top guest acts from the InternationalComedians.com Comedy Tour – David Duff (IRELAND), Brian Jordan (USA), & Joe Eagan (CAN)!
It will feature John Colleary, one of the best Irish comedians on the circuit + Andy Valvur (USA).
When: Wed, Apr 26, 20,00 (Comedy room open and pre-show mingle from 19,00)
Where: McLaughlin's, Kurze Str. 11, Dusseldorf (through the pub to the back to the comedy room)
How much: 13eur advance
15eur on the door
2-person advance special for only 22eur
Reserve advance tickets via:
dussel@internationalcomedians.com
David Duff – Ireland
David is a musical comedian and his most well-known song is "The Boy Racer Song" which has had about 200,000 hits on Youtube. He has played all over world with a host of different acts in venues both small and big. A charmer in every sense of the word who will charm your pants and skirts off laughing all the way home.
Brian Jordan – USA
Brian is by far one of the most foremost crowd work comics in northern europe. Don't miss this chance to see him in action and don't hesitate to sit in the front row so he can talk to you! The man, the mystery the legend is coming to Cologne!
Joe Eagan – Canada
Joe entertains audiences with his unique perspective about life as a Canadian in Europe, stereotypes about different nationalities, culture clashes and lots of other fun things – a maple syrup mix of observational humour you don't want to miss!
Presented by InternationalComedians.com
Hire comics for company events/parties: see www.internationalcomedians.com