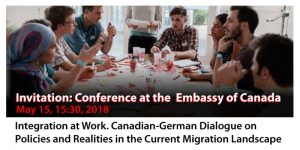 Forum@KanadaHaus in Berlin 
Dienstag, 15. Mai 2018 
Integration at Work. Canadian-German Dialogue on Policies and Realities in the current Migration Landscape.
The Embassy of Canada in Berlin and the German-Canadian Association e.V. cordially invite you to attend the 9th annual Forum @ Kanada Haus, on Tuesday, May 15, 2018. Keynote speaker
State Secretary Dr. Markus Kerber
will open a series of lively exchanges with input from Canadian and German experts from business, think tanks, civil society and government.  You can access the full program below. The 9th Forum @ Kanada Haus centers on a pressing issue in both Canada and Germany – integration of refugees in the workplace – and presents opportunities for dialogue and learning between the two countries. Despite the vast differences in their geopolitical situations, Canada and Germany have maintained an ongoing, productive exchange on migration policies and realities. This edition of the Forum @ Kanada Haus looks at workplace and industry inclusion: what are the current challenges each country is facing, and what is guiding their policies? How are newcomers being integrated into the workforce, and what experiences have been gathered so far? Shortly before Canada is set to host the G7, the Forum's discussion includes two of the summit's themes, namely: investing in growth that works for everyone, and advancing gender equality and women's empowerment.Free entrance upon registration. Please register
here
or via email to
Adela.yawitz@international.gc.ca
by May 13th. More information about the event and the full program
here
.