Datum/Zeit
Date(s) - 18/03/2017
15:00 - 20:00
Veranstaltungsort
stilwerk - Grünstr. 15 - 40212 Düsseldorf - Deutschland
Kategorien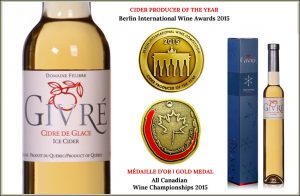 Unsere Freundinnen Catherine und Jeanne von Domaine Félibre aus Stanstead in Québec präsentieren am 18. März 2017 ab 16:00 Uhr im Stilwerk, Grünstraße 15 in Düsseldorf ihren international mehrfach prämierten Ice Cidre. Domaine Félibre ist in einer der zwei kanadischen Gastaussteller bei der ansonsten französischen Verkostung von der Champagner Galerie. Und wir garantieren: Es lohnt sich dabei zu sein. Eintritt: 5 Euro für das Weinglas
Domaine Félibre liegt 425 m ü. d. M., in den Hochkantonen, die zur Region West-Barnston (Quebec/ Canada) gehören, zwischen Stanstead und Coaticook. Von dem Gut aus genießt man ein herrliches Panorama. Der Blick reicht vom Mount Orford bis zu den Ausläufern der Appalachen.
Der Reichtum des Landes und das einzigartige Klima dieser …Region, dazu die Erfahrung und Expertise unserer Kellermeisterin lassen in den Fässern von Domaine Felibre Qualitätsprodukte von höchster Güte reifen: Weine, Liköre und Eisapfelwein. Unnachahmlich ist unser Givré (Eisapfelwein), der von uns mit höchster Sorgfalt ausgebaut wird.
Der Familienbetrieb wurde 1998 gegründet. Von der Apfelwiese bis zur Abfüllung werden unsere Produkte in traditoneller Weise hergestellt. Feinsinnig und raffiniert sind unsere Produkte im Geschmack und haben so Liebhaber und Kunden weit über Canada hinaus gefunden.
Heute vertreiben wir unsere Produkte in Quebec, Frankreich, Belgien, Luxemburg und Japan.

Ebenso wird unsere Freundin Sophie Laurent vom Weingut Burrowing Owl aus dem Okanagan Valley im Stilwerk leckere Weine einschenken.
Burrowing Owl's Hauptweinberge (53 Hektar) befinden sich in einer erstklassigen Lage an der östlichen Seite des Okanagan Valleys zwischen Osoyoos und Oliver, British Columbia. Die Black Sage Bank bietet einen guten Hang, eine gute Drainage und eine ideale Sonneneinstrahlung. Trauben, die an diesem Hang gewachsen sind, haben bereits lokale und internationale Anerkennung gleichermaßen angezogen. Evas Weinberg (11 ha) liegt auf einer Süd-West-Lage oberhalb des Osoyoos-Sees und nur einen Steinwurf von der US-Grenze entfernt! Die Kereos Weinberg (10 Hektar) wird auf den sanften, südwestlichen Kieshängen im kühleren Similkameen-Tal gepflanzt und bietet klassische Bedingungen für Sauvignon-Blanc. Alle unsere Weine werden aus angebauten Trauben hergestellt. Alle unsere Trauben werden von Hand aus geerntet. Burrowing Owl's Weine strahlen bei der Kombination mit gastronomischen Genüssen. Sie verbinden sich gerne mit Speisen, die die Sinne beleben. "Dave Keeler – The Sonora Room Restaurant.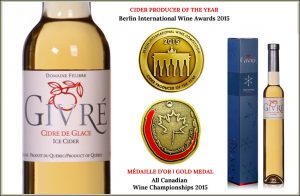 Our friends Catherine and Jeanne from Domaine Félibre will invite you to a special Ice Cidre Tasting in Düsseldorf at the Stilwerk, Grünstraße 15 on March 18, 2017 starting at 4 pm. Come and join the tasting of this great product which won several international awards. Domaine Félibre is one out of two guest exhibitors form Canada at the apart from that french tasting event which is organized by the Champagner Galerie. And we guarantee: It´s worth to join and to taste it. Entry fee: 5 Euros for the degustation glass (it will be yours finally).
The expertise of the Maître de Chai, or cellarmaster, helps Domaine Félibre offer its clientele high-quality ice cider (Givré), liqueurs and wines that are a special tribute to the richness of our land and the unique climate here in the Eastern Townships (Quebec, Canada).
Located in the Hauts-Cantons region in West-Barnston (between Stanstead and Coaticook) at an altitude of 425 meters, Domaine Félibre boasts an exceptional view that extends from Mount Orford to the edges of the Appalachian Mountains.
Made in a traditional manner from fruit cultivation to bottling, our subtle and refined products have piqued the interest of consumers.
Domaine Félibre now has distributors in Quebec, France and Japan

Also our friend Sophie from the winery Burrowing Owl will be at the Stilwerk presenting you great wines from BC.
Burrowing Owl's main vineyards (130acres / 53ha) are located in a prime location on the eastern side of the Okanagan Valley between Osoyoos and Oliver, British Columbia. The Black Sage bench offers a favourable slope, good drainage, and ideal sun exposure. Grapes grown on this bench have already attracted local and international acclaim alike. Eva's 30 acre (11ha) vineyard is located on a south-west facing above Osoyoos Lake and a stone's throw from the US border! The Keremeos 10 acre (4ha) vineyard is planted on the gentle south western gravely slopes in cooler Similkameen valley and offers classic conditions for sauvignon blanc. All our wines are made from estate grown grapes. All our grapes are harvested by hand. "Burrowing Owl's wines shine with gastronomic delights. They appeal to food that enlivens the senses." Dave Keeler – The Sonora Room Restaurant.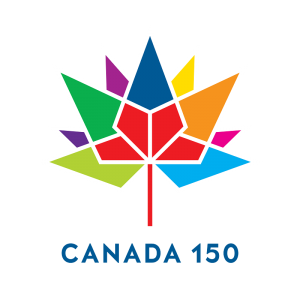 iCal