Datum/Zeit
Date(s) - 27/08/2016
16:00 - 23:00
Veranstaltungsort
Krevets - Steinkaul 3 - 40589 Düsseldorf - Deutschland
Kategorien
[wpdevart_countdown text_for_day="Days" text_for_hour="Hours" text_for_minut="Minutes" text_for_second="Seconds" countdown_end_type="date" end_date="27-08-2016 16:00″ start_time="1470645922″ end_time="0,1,1″ action_end_time="hide" content_position="center" top_ditance="10″ bottom_distance="10″ ][/wpdevart_countdown]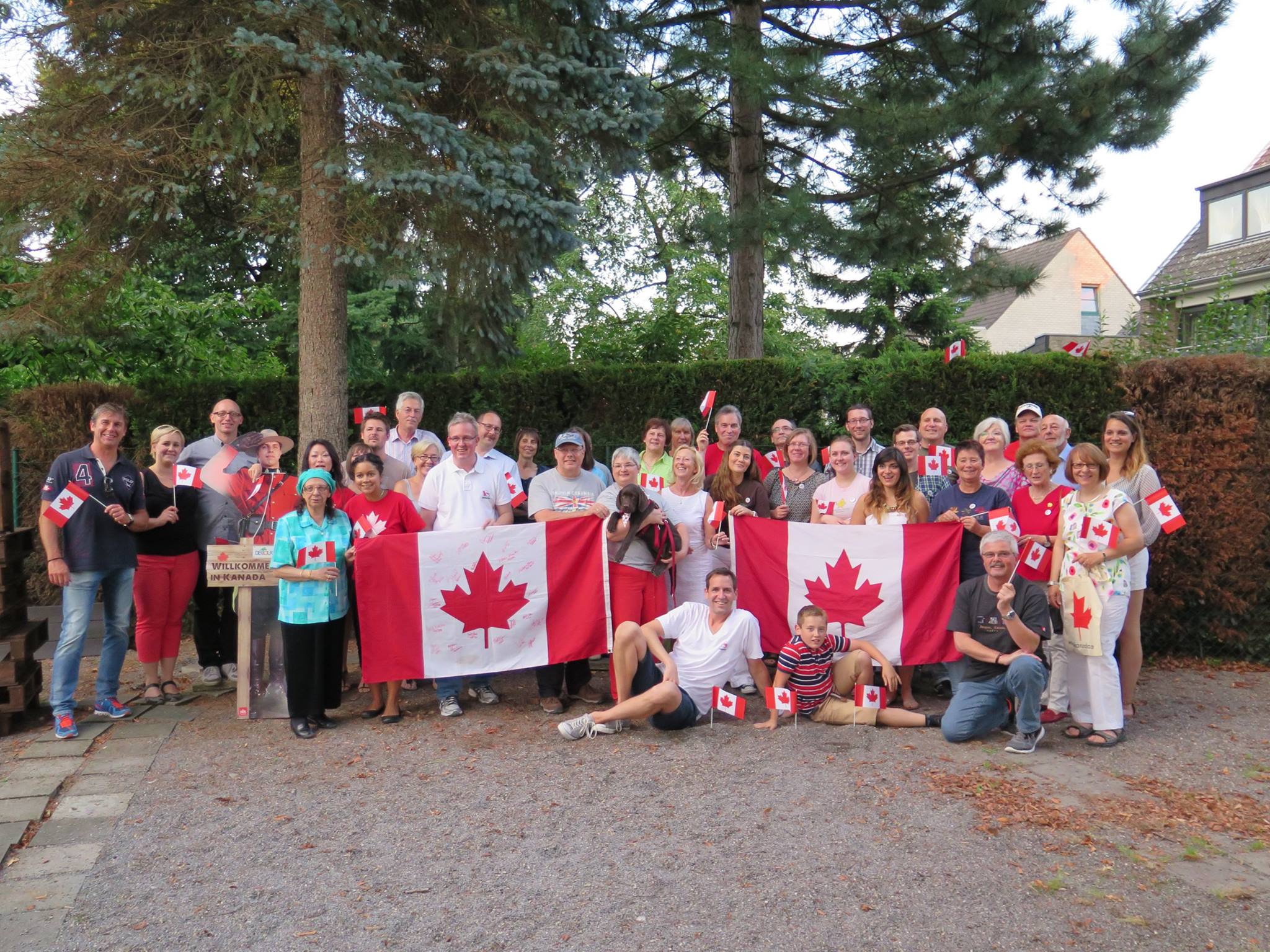 (English translation see below)
Liebe Freundinnen und Freunde Kanadas, liebe Kanadierinnen und Kanadier,
am Samstag, 27. August 2016 wird unsere KANADATREFF FAMILY Summer Party in Düsseldorf stattfinden.
Die Veranstaltungsadresse wird wieder hier sein:
Restaurant Krevets
Steinkaul 3
40589 Düsseldorf
Das Krevets ist ein gemütliches Restaurant mit Biergarten. Die Terasse ist überdacht. Parkplätze sind fußläufig vorhanden. Im Biergarten könnte ein kleiner Infostand aufgebaut werden. Zu erreichen ist das Krevets mit den Buslinien 835 (Alt-Himmelgeist) und 731 (Himmelgeist, Friedhof bzw. Am Scheitenweg).
Der Koch des Hauses Krevets, Patrick Schwippert hat sich wieder was leckeres für unser Feier ausgedacht, aber seht selbst:
 Kanadisches Bananenbrot
mit Maplesirup, Erdnussbutter und Zimt – Pfirsichmarmelade
* * *
Vancouversalad
Avocado – Shrimp – Salat mit Sesam
Caesar Wrap
Tortillawrap mit Eisbergsalat, gegrillter Hähnchenbrust, Rucola und Caesar Dressing
Rinderhüftsteaks Buffalo
mariniert mit Honig, BBQ, Rosmarin und Whisky
Pulled Pork Yambalaya Style
Gerupfte geschmorte Schweineschulter mit Ahornsirup, Chili und Senf im Fladenbrot
Beef Burger
180g Rindfleisch im Sesambrötchen
mit Tomaten, Gurken, Salat, Zwiebeln, Bacon,
Mozzarella – Cheddarmix und BBQ Sauce
BBQ Potatoes
Gebackene Süßkartoffelecken mit Thymian und Knoblauch
(Für Vegetarier bieten wir gerne einen Vegieburger
sowie verschiedenes Gemüse vom Grill an)
* * *
Rollin
Gefüllte Pfannkuchen
mit Kokos – Cranberry – Creme an Blaubeereneis und Nougatcreme
Preis / Person: 30,90 Euro
Bitte meldet Euch  bis spätestens zum 20. August 2016 an und überweist den Betrag für das BBQ unmittelbar an die folgende Bankverbindung: 
Kontoinhaber: XXX XXX
IBAN: XXXX XXXX XXXX XXXX XX
BIC: XXXXXXXXXX
Ebenso besteht auch die Möglichkeit vor Ort à la Carte zu bestellen. Jedoch könnte es dann zu möglichen Wartezeiten kommen.
Selbstverständlich sind auch Eure Freunde, Bekannte, Famillienangehörige und weitere Freundinnen und Freunde Kanadas herzlich willkommen.
Für die Anreise empfehlen wir Fahrgemeinschaften zu bilden! Für Rückfragen stehen wir Euch über unsere E-Mailadresse info@kanadatreff.com zur Verfügung.
Bitte gebt auch eine Telefonnummer an, über die wir Euch ggf. erreichen können.
Beste Grüße
Euer KANADATREFF Team
Hier sind ein paar Impressionen aus dem letzten Jahr / Here are some impressions of our last year KANADATREFF FAMILY Summer Party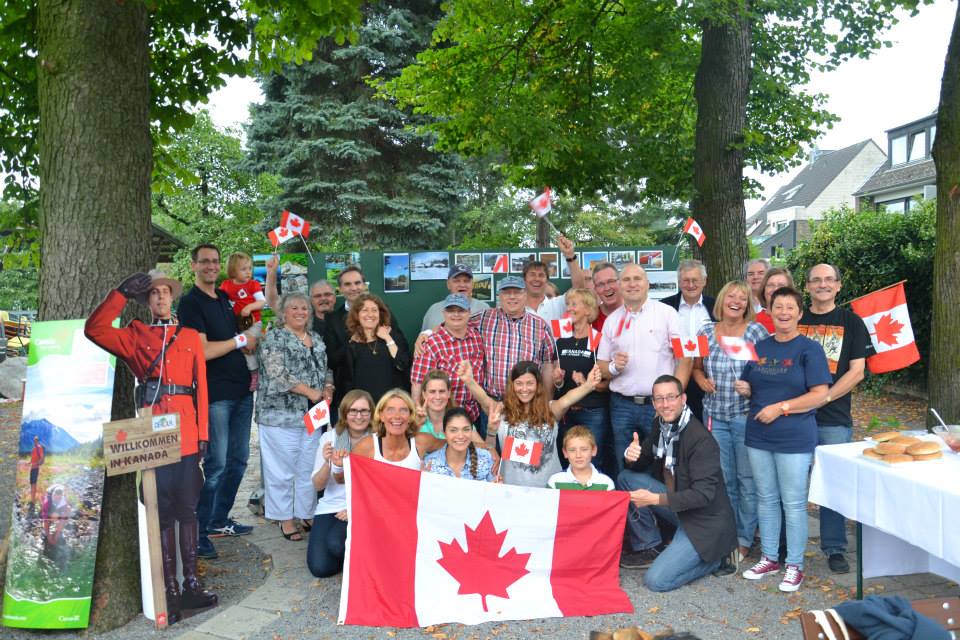 Dear friends of Germany and Canada,
we will celebrate our KANADATREFF FAMILY Summer Party in Düsseldorf on Saturday, August 27, 2016.
The venue will be:
Restaurant Krevets Steinkaul 3, 40589 Düsseldorf
The "Krevets" is a comfy restaurant with a beergarden. And it has a roofed terracy. Parking area is available within walking distance. A small information desk can be built up in the beergarden. You can reach the "Krevets" by bus with line 835 (exit: Alt-Himmelgeist) and 731 (exit: Himmelgeist, Friedhof or Am Scheitenweg).
Patrick Schwippert, the Maitre de la Cuisine of the Krevets, has created the following BBQ for our party. Have a look at it:
 Canadian banana bread
with maple syrup, peanut butter and cinnamon– peach marmelade
* * *
Vancouver Salad
Avocado – Shrimp – Salad with sesame
Caesar Wrap
Tortillawrap with iceberg lettuce, grilled chickenbreast, Rucola and Caesar Dressing
beefsteak Buffalo
marinated with honey, BBQ, rosemary and whisky
Pulled Pork Yambalaya Style
Plucked stewed pork shoulder with maple syrup, chili
and mustard in flatbread
Beef Burger
180g beef in a sesame roll
With tomatoes, cucumber, salad, onions, bacon,
Mozzarella – Cheddarmix and BBQ sauce
BBQ Potatoes
baked sweet potato wedges with thyme and garlic
(We offer a vegieburger, vegetables and a vegetable roasting spit for vegetarians)
* * *
Rollin
Stuffed pancakes
with coconut – cranberry – cream and blueberry ice and nougat cream
Price / person: 30,90 €
It is also possible to order à la Carte. But consider a longer waiting time.
Our Deadline is August 20, 2016. Please transfer the amount for the BBQ then immediatly to this bank account:
account holder: Martin Gutsch
IBAN: DE81 3055 0000 0240 4505 28
BIC: WELADEDNXXX
You also have the chance to order à la Carte but please consider some waiting time.
Of course your friends, family members and all friends of Canada and Germany are heartily welcome!!!
We recommend to form a car-pool for the event! For further questions do not hesitate to contact us via our e-mail info@kanadatreff.com .
Please provide us with your telephone number so that we also can contact you by telephone.
Cheers
Your KANADATREFF Team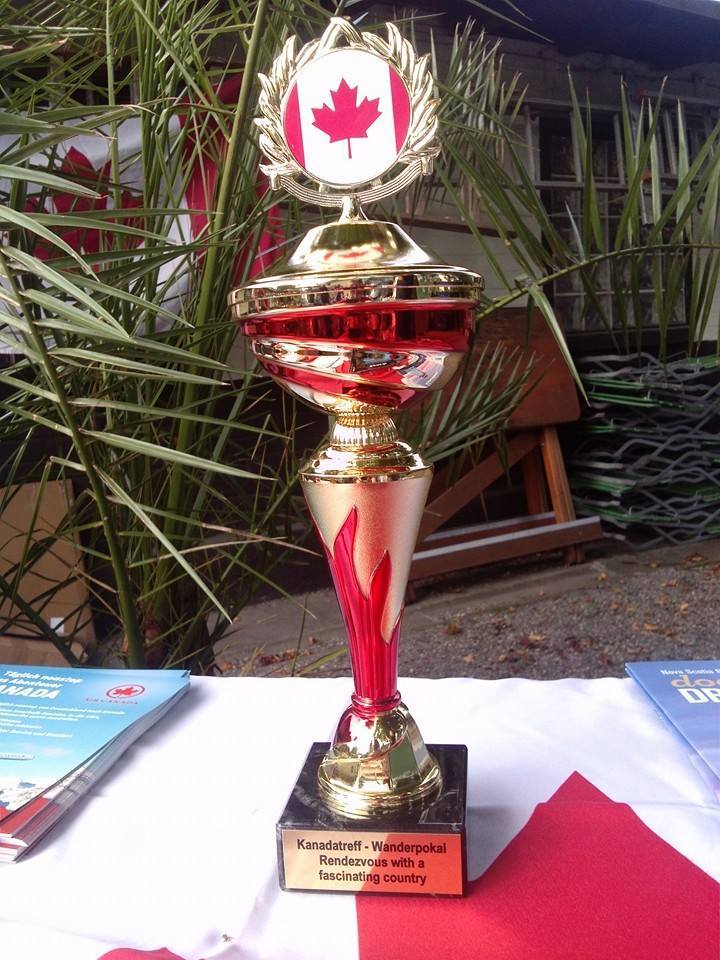 Bookings
Buchungen sind für diese Veranstaltung geschlossen.
iCal