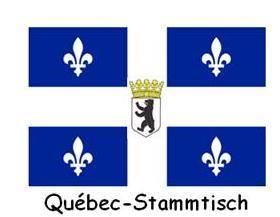 Dear friends and aquointances, lovers of Québec, lovers of good music and queers of all types,
Justine (Montréal) and Rémy (Québec) are leaving Berlin and this is our official going-away party.It's also :
▶ the Berlin concert-release event for
Rémy Bélanger de Beauport
's flexidisc ANGENEHMER DUFT on Kohlenstoff Records
▶ the première of ElvAr X's music vidéo for "chanson du draveur" (director
Justine Durand
)
▶ this month's official "Québec-Stammtish à Berlin" event
▶ Montreal-based musician
Così e Così
's exciting unique concert stop in Berlin▶▶▶ PROGRAM ☆☆☆
19:00 – Doors open, gather around the one and only "Québec-Stammtisch à Berlin" https://www.facebook.com/groups/400001206728364/…
▶ hang out all night
☆ DE : Der Stammtisch richtet sich an alle Quebecer und Quebec-Interessierten. Ein Treffen findet ein Mal im Monat statt.
☆ FR : Une table ronde mensuelle pour tous les Québécois à Berlin et bien-sûr pour tous les autres qui s'intéressent au Québec.
20:30 – Rémy Bélanger de Beauport
▶ solo cello performance
☆ Rémy recorded a short cello solo piece this year in Berlin, Félix-Antoine Morin made a fantastic remix back in Montréal, this got printed on a limited edition flexidisc, available from now!
☆ Album : ANGENEHMER DUFT // Label : Kohlenstoff Records, 2016 // Recording : Nick Schröder // Mastering : Félix-Antoine Morin // Flexidisc design : Louis-Pierre Lennis Charbonneau
21:00 – Première of ElvAr X, chanson du draveur
▶ music video screening
☆ Embark on an 8:31 hypnotizing train wreck of drums, guitars, vocals, archival video, water explosions, dizziness and desire.
☆ ElvAr X : Rémy Bélanger de Beauport (drums/guit/voc/ddelay) // Video Director : Justine Durand (Berlin, 2016) // Recording & Mixing : Robin Servant (Rimouski, 2015-2016)
21:30 – Così e Così "Beyond The Tree Rings" Tour 2016
▶ live performance (experimental, hip hop, atmospheric, faux pas, swag, no life, noise pop)
☆ What a treat it is for Rémy & Justine to offer you this Montréal-based, self-defined multi-disciplinary/musical coup d'état artist. Così e Così is currently on tour in Europe and this is your only chance to see him live in Berlin.
http://cosiecosi.tumblr.com/
http://cosiecosi.bandcamp.com/
http://soundcloud.com/cosiecosi
23:00
▶ stick around to hang out, we will DJ some kitsch and not-so-kitsch Québecois music. Hint : Céline's new release comes out the day before our event.
Thanks to the CLUB for being our host tonight, we had great times in this neighbourhood queer bar, ce n'est qu'un au revoir.