Invitation to ERA-Can+ Information Session on EU-Canada Collaboration
The ERA-Can+ project is pleased to invite you to its next two information sessions in Germany onStrengthening Science, Technology and Innovation Partnerships between Canada and Europe:
1)      Collaboration in Health Research on September 22 starting 08:30, in Bonn
2)      From Basic to Applied Research on September 23 starting 08:30, in Munich
The session will be hosted by PT-DLR and addresses European and German researchers and programme managers interested in collaborating with Canada and to connect with projects that already have successfully launched collaboration with Canada.
The sessions are free of charge and open to everyone interested. The sessions will be held in English.To register for one of the information sessions, please follow this link.
 All latest updates will be made available on the ERA-Can+-website www.era-can.net.
For questions please contact Johanna Füllmann, Johanna.Fuellmann@dlr.de or Damian Plien,Damian.Plien@dlr.de.
Best regards
The ERA-Can+-Team
DLR Project Management Agency: A reliable partner for research, innovation and education.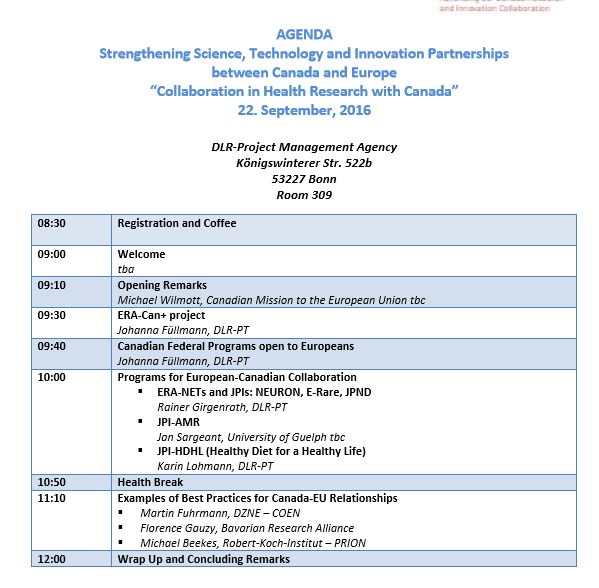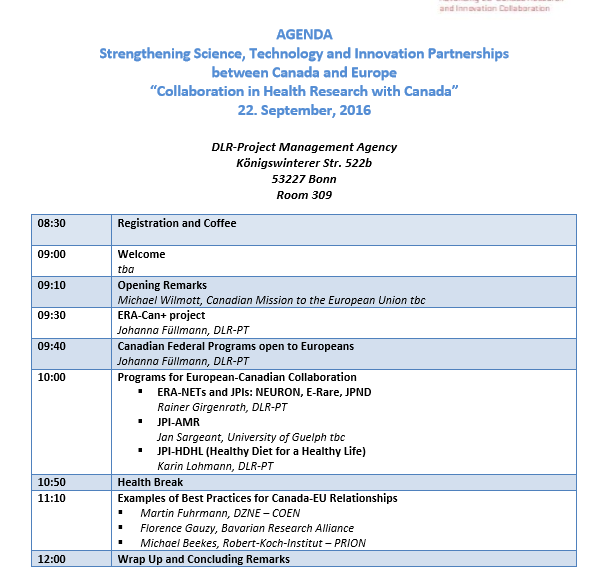 Note: Times and dates, as well as the order of the agenda are subject to change. A final version will be made available on the ERA-Can+ website: www.era-can.net.