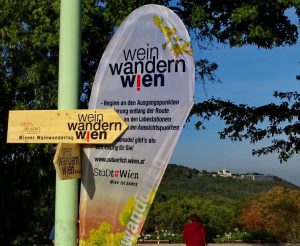 Following the great sucess of the past years, join the Canadians in Vienna again or for the first time and discover the Viennese vineyards like you have never seen them before! This event organized by the city of Vienna is a great opportunity to walk along paths where you would normally not adventure yourself!
As usual, don't be afraid to dress Canadian!
Pour faire suite au succès des dernières années, soyez de la partie avec les Canadiens de Vienne encore une fois ou pour une première fois et découvrez les vignobles viennois! Cet évènement organisé par la ville de Vienne est une occasion formidable de découvrir des parcours inattendus.
N'ayez pas peur de montrer vos couleurs canadiennes!
Meeting Points / Lieux de rencontre:
10h45: Neustift am Walde (U4 or U6 Spittelau and then bus 35a, stop Neustift am Walde/ métro U4 ou U6 Spittelau et ensuite l'autobus 35a arrêt Neustift am Walde)
12h30: Weingut Cobenzl until 13h30 (U4 Heiligenstadt and then 38a, stop Parkplatz Cobenzl, walk into the inner court, follow the music, and look for us / Weingut Cobenzl jusqu'à 13h30 (métro U4 Heiligenstadt et ensuite l'autobus 38a, arrêt Parkplatz Cobenzl, marchez vers la cour arrière et cherchez nous)
14h00: Grinzing (Take the tramway nr 38 to the end and then walk to the information counter –about 10 minutes, we will be having a wine break here / Grinzing (Prenez le tramway nr 38 jusqu'a la fin et marchez jusqu'au comptoir d'information de l'évènement – environ 10 minutes, nous prendrons une pause vin ici
14h30: departure for the longer treck (5.3 km) BUT the most beautiful one, with many, many stops to try wine (end planned 18h30)/départ pour la plus grande partie de la randonnée (5.3km) MAIS la plus belle, accompagné d'une multitude d'arrêts pour essayer du vin (fin prévue 18h30)
https://www.wien.info/en/shopping-wining-dining/wine/wine-trail
Please register by sending a message to Ariane Tremblay-Nadeau (canadians.in.vienna@gmail.com)