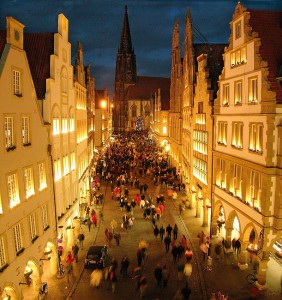 Canada Lovers und Canadians aus Münster und Umgebung dürfen sich freuen. Der KANADATREFF gründet in Kürze einen KANADATREFF in Münster!
Wir hoffen, es gibt zahlreiche Mitglieder in unserer Community, die Interesse an einem regelmäßigen Austausch haben. Wir haben auch schon einen Organisator vor Ort, der sich darauf freut, Euch begrüßen zu dürfen.
Im Mai wird es höchstwahrscheinlich schon das erste Treffen geben.
Also: Canadians und Canada Lovers aus Münster und dem Umkreis Osnabrück, Rheine, Hamm, Haltern, Coesfeld, Warendorf, Lünen etc – seid dabei und sendet schon heute eine E-Mail an muenster@kanadatreff.com
Canada Lovers and Canadians from Münster and environment: The KANADATREFF is about to establish a KANADATREFF in Münster soon!
We hope that lots of Canada lovers and Canadians are interested in a regular exchange. We already have a coordinator who is looking forward to welcome you!
The expected Kick-Off will be in May.
Canadians and Canada Lovers from Münster or from the environment Osnabruck, Rheine, Hamm, Haltern, Coesfeld, Warendorf. Lünen etc –  be there and send an e-mail to muenster@kanadatreff.com