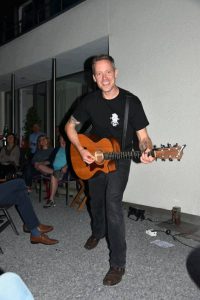 In den mehr als zehn Jahren, die Morgan Finlay bereits auf den Straßen Europas tourt, gelang es dem irisch-kanadischen Singer-Songwriter durch sein Talent für Melodien, seine ergreifenden und mitfühlenden Beschreibungen, sowie seine Leidenschaft für die Menschheit eine einzigartige Erfolgsgeschichte zu schreiben, die ohne seine Fans nicht denkbar gewesen wäre. Seit seiner elektrisierenden, ersten Single zensong, die auf Platz zwei der australischen Independent Radio Charts kletterte, sowie seinen acht veröffentlichte Alben und über 650 gespielten Konzerten, gewann Finlay wachsende Anerkennung und Erfolg. Seiner Stimmgewalt und den mit unverblümter Ehrlichkeit erzählten Geschichten verdankt Finlay seine leidenschaftliche Fangemeinde, die bereits drei IndieGoGo-Crowdfunding Campagnen zum Erfolg verhalfen, über die auf seinen Alben veröffentlichten Songs abstimmten, selbst Konzerte veranstalteten und Regie in Videos führten. 
Das 2015 erschienene Album New Harbour wurde im kanadischen Neufundland geschrieben und aufgenommen und schwang sich schnell zu Finlays bisher erfolgreichstem und beliebtesten Werk auf. Er plant für 2018 die Veröffentlichung eines weiteren "Abenteueralbums". Dieses soll in Japan entstehen und auch dort aufgenommen werden. Zur Halbzeit der Born Ready Tour 2017 kann Finlay auf einen mit Shows in Deutschland und der Schweiz randvoll gepackten Kalender blicken. Auf dieser Tour wird er im August seine live Musik/Kino Produktion FRAMES II; A Live Morgan Finlay Movie beim Moosenmättle Open Air und dem Innenhof Festival im Schwarzwald auf die Leinwand bringen; außerdem wird er im Herbst seine brandneuen Singles veröffentlichen.
Wir, die Deutsch-Kanadische Gesellschaft, laden alle Freundinnen und Freunde der guten Musik und Kanadas am 25. Oktober ganz herzlich zu der Neuauflage der "Night of Canadian Music" in die Fifi-Bar in den Kölner Süden, Severinswall 35. Morgan Finlay wird unser Gast sein und einige seiner Songs uns präsentieren. Lernt diesen sympathischen Kanadier und seine Musik kennen. Es lohnt sich. Wir bitten um Anmeldung per E-Mail bei der Geschäftsstelle der DKG: info@dkg-online.de). Weitere Details in Kürze. Seinen Tourplan findet ihr weiter unten! Vielleicht spielt er auch bei Euch in der Nähe!!!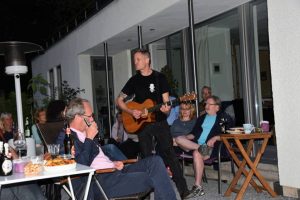 Traveling the roads of Europe for over ten years, Irish-Canadian singer-songwriter Morgan Finlay has woven his talent for melody, poignant observations and passion for humanity into a fan-made success story. From the electricity of his very first single 'zensong', which climbed to #2 on the Australian Independent Radio charts, through eight releases and over six hundred and fifty shows, Finlay's powerful voice and honest storytelling have brought him acclaim and a passionate following, who have financed three successful IndieGoGo crowdfunding campaigns, decided his album songlists, hosted concerts and directed videos. 
Finlay's 2015 album 'New Harbour', written and recorded in Newfoundland, Canada rose quickly to become the most acclaimed release of his career so far; he plans to release yet another 'adventure album' in 2018, to be created and recorded in Japan. Halfway through 2017's 'Born Ready Tour', Finlay is looking forward to a busy schedule of shows in Germany and Switzerland; bringing his live music/cinematic production 'FRAMES II; A Live Morgan Finlay Movie' to the screen at the Moosenmättle and the Innenhof Festivals in the Black Forest in August; and releasing brand new singles in the fall.
We, the German-Canadian Association (DKG e.V.) invites all friends of good music and of Canada to the Fifibar, based in Cologne, Severinswall 35 on October 25, 2017 to our new edition of our "Night of Canadian Music". Morgan Finlay will be our guest and play some of his wonderful great songs. Come and join the event and get to know the sympatic Canadian and his music. It´s worth it. Please register via e-mail to the office of the DKG (info@dkg-online.de). Further more details are coming up soon.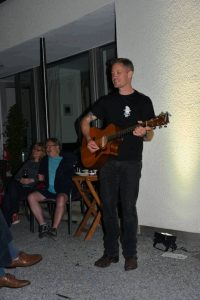 september 9 at Mausefalle, in Bonn (DE)
september 10 at Cafe Lichtung, in Köln (DE)
september 12 with Mathew James White at Moist Corner, in Suhl (DE)
september 15 at a Living Room Show, in Freudenstadt (DE)
september 16 at Jazzkeller Hanau, in Hanau (DE)
---
october 25 for Canadian Music Night at Fiffi Bar, in Köln (DE)
october 27 at Felsenkeller, in Kelkheim (DE)
october 28 at a Living Room Show, in Neuenkirchen-Bieste (DE)
october 30 at the Rack N Roll, in Remscheid (DE)
november 2 at the Sofa Sessions, in Freiburg (DE)
november 3 at a Living Room Show, in Karlsruhe (DE)
november 4 at JUZE, in Wörth am Main (DE)
november 5 at the Blue Carpet Stage, in Erdmannhausen (DE)
november 7 at Tonzimmer, in Koblenz (DE)
november 9 at Cafe Käthe, in Rostock (DE)
november 10 at Kulturwerk, in Nienburg (DE)
november 11 at Living Room Show, in Ragow (DE)
november 17 at Cafe Frieda, in Poel (DE)
november 18 at a Living Room Show, in Schwerin (DE)
november 23 at Cafe Instinkt, in Sankt Peter-Ording (DE)
november 24 at a Living Room Show, in Leverkusen (DE)
december 1 at Cafe Verkehrt, in Murg (DE)
december 4 at a Private Concert, in Zürich (CH)
december 5 at Ohrwurm concert series, in Frankfurt (DE)
Quelle: http://www.morganfinlay.com