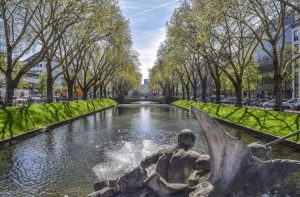 Canadian Delicatessen at the Gourmet Festival in Düsseldorf
From August 23-25, 2019, the prestigious shopping mile "Königsallee" will turn into a food mecca celebrating Europe's largest open air food event, the Gourmet Festival in Düsseldorf.
The event attracts more than 200 exhibitors and 100,000 food enthusiasts eager to discover and taste local and international specialties.
For the first time, Canada will be represented with a food truck and stage to feature exclusive Canadian food and beverage products, such as lobster, oysters, maple delights, Canadian wine, beer, and spirits etc.
When: 23rd of August 2019 until 25th of August (Friday to Sunday) – opening hours are 1 pm until 9 pm on Friday and from 11 am until 9 pm on Saturday and Sunday.
Where: Königsallee in Düsseldorf, Germany (close to the Corneliusplatz)
Enjoy the Taste of Canada, meet Canadians and Canada Lovers or become friend of Canada