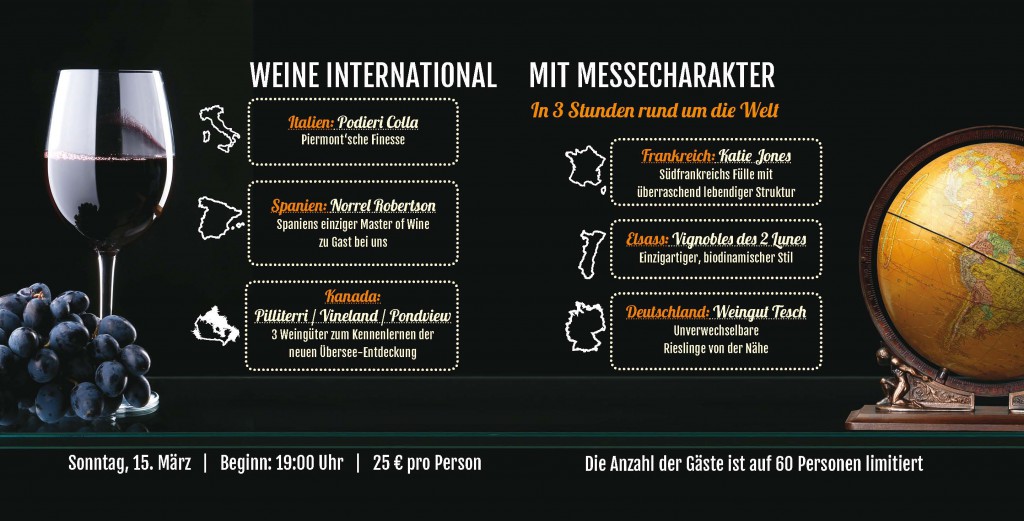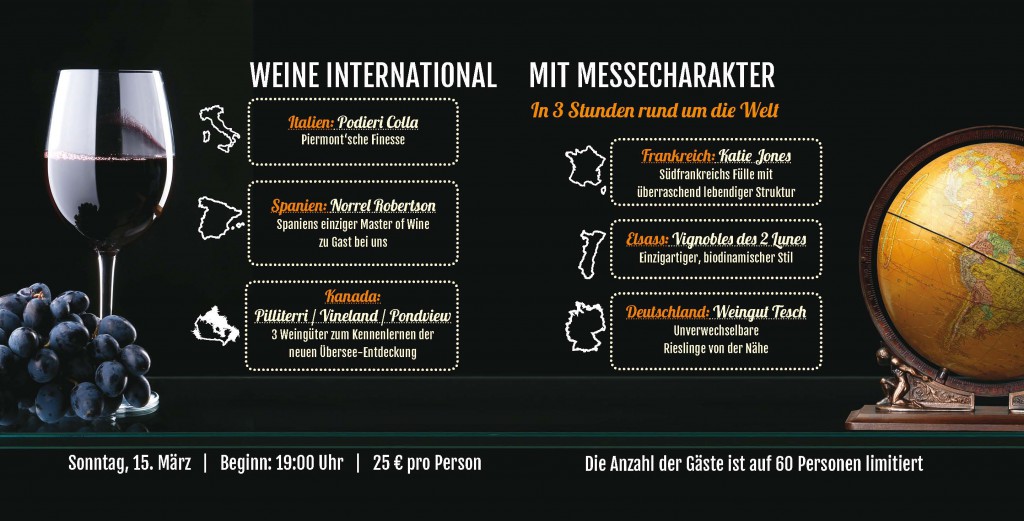 Die VINDEGA-Weinbar im Düsseldorfer Medienhafen
lädt ein zu einer internationalen Weinverkostung mit Messecharakter!
am 15.03.2015 von 19:00 bis 22:00 Uhr
Zollhof 8, 40212 Düsseldorf
Für unsere Kanadafreunde und Kanadier:
Es werden gleich drei Kanadische Weingüter präsentiert!
Freut Euch auf:
Pillitteri Estates Winery mit Charlie, Jared und Richard
Vineland Estates Winery mit Brian Schmidt
Pondview Estates Winery mit Marcel Morgenstern
Die weiteren Aussteller kommen aus Deutschland, Frankreich, Spanien und Italien. Hierbei handelt es sich um:
Weingut Tesch / Deutschland
Vignobles des 2 Lunes / Elsass
Katie Jones / Frankreich
Norrel Robertson / Spanien
Poderi Colla / Italien
Passend zum Messecharackter gibt es Brot und Wasser, um die strapazierten Geschmacksknospen zu beruhigen.
Die Teilnahme ist auf 60 Personen begrenzt und kostet 25€ / Person.
Anmeldungen nimmt die VINDEGA Weinbar
telefonisch unter der Rufnummer 0211-15764620
entgegen
*****
VINDEGA-Weinbar in the Medienhafen in Düsseldorf
invites you to an international wine tasting with fair character!
On March 15, 2015 starting at 7 pm. until 10 pm.
Zollhof 8, 40212 Düsseldorf
For our Canada Lovers and Canadians:
Three Canadian wineries will be present
We are looking Forward to
Pillitteri Estates Winery with Charlie, Jared und Richard
Vineland Estates Winery with Brian Schmidt
Pondview Estates Winery with Marcel Morgenstern
The other exhibitors are from Germany, France, Spain and Italy:
Weingut Tesch / Germany
Vignobles des 2 Lunes / Alsace
Katie Jones / France
Norrel Robertson / Spain
Poderi Colla / Italy
The event is limited to 60 participants and costs 25 € / person
Register by phone 0211-15764620 (VINDEGA Weinbar)