Liebe Freunde Kanadas, Liebe Canadians,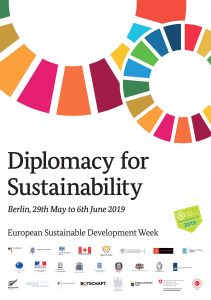 Transatlantic Perspective on Oceans – A Canadian – Portuguese Dialogue
Botschaft von Kanada, Berlin am 5. Juni um 15:45 Uhr
Sprecher:
Prof. Emanuel Gonçalves, Member of the Board of Directors of the Oceano Azul Foundation; Vice-Director of MARE
Keynote title: "Challenges for Ocean Conservation in the Next Decade"
Gary Geddes, Canadian poet and activist; recipient of Lt Governor's Award for Literary Excellence (2008)
Keynote title: "Urgent, Final Messages: Sustainability in Language and Life"
Moderatorin:
Betsy Leimbigler, Research Associate at the John F. Kennedy Institute, Freie Universität Berlin
Im Anschluss an die Podiumsdiskussion erfolgt ein Empfang.
Die Veranstaltung wird in englischer Sprache durchgeführt. Die Türen öffnen um 15:45 Uhr.
Bitte melden Sie sich bis zum 31. Mai an bei marta.neueff@international.gc.ca.
Dieses Event gehört zur Veranstaltungsreihe "Diplomacy for Sustainability", organisiert vom Auswärtigen Amt der Bundesrepublik Deutschland während der "European Sustainable Development Week".

Unternehmenspräsentation Air Canada in Frankfurt
Air Canada, Hahnstr. 70, 60528 Frankfurt – 14. Juni 2019 um 19 Uhr
Am 1. September 1937 wurde der erste Flug der Air Canada, damals noch Trans-Canada Air Lines (TCA) genannt, eingeweiht. Es war ein 50 Minuten Flug zwischen Vancouver und Seattle in einer Lockheed L-10A. Die Maschine transportierte 2 Passagiere und Post. In 1964 wurde TCA zu Kanadas National-Fluglinie und änderte ihren Namen zu dem, den wir heute kennen.
Air Canada gehört heute zu den 20 größten Fluglinien der Welt und besitzt eine der jüngsten Flotten.
Siegfried Gutsch, "Leisure Sales Manager" von Air Canada in Frankfurt, wird uns die Airline präsentieren und uns noch ein paar "Insider" Informationen verraten.
Nicht verpassen! Die Platzanzahl ist limitiert.
Anmeldungen als first come, first serve ab sofort und bis zum 10.6. erbeten, unter: rheinmain@dkg-online.de
3 Gehminuten vom S-Bahnhof Niederrad entfernt ! – Die Lyoner Strasse hinunter und am Ende des DEKA Gebäudes ist die Hahnstrasse, und das Gebäude ist direkt Ecke Lyoner/Hahnstr.
Canada Table Bremen
Nächster Termin am 19. Juni 2019 ab 19 Uhr